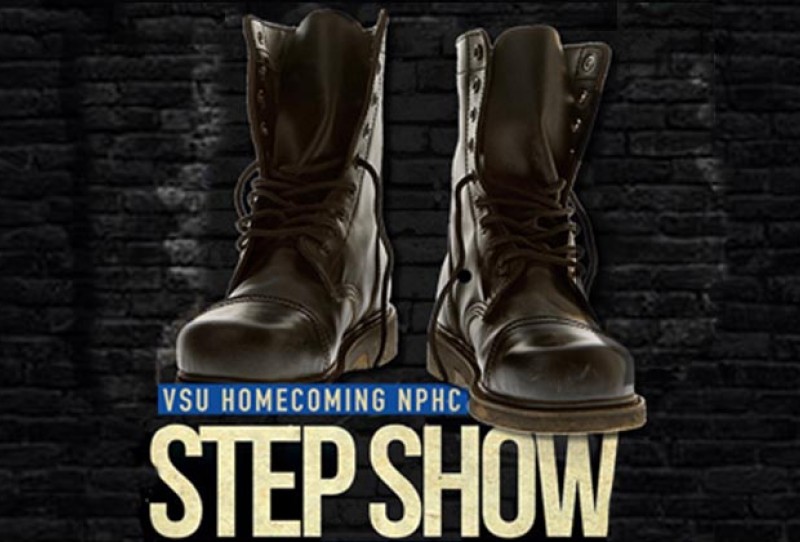 2018 VSU Homecoming Committee presents the 2018 VSU Homecoming National Pan-Hellenic Council Step Show on Saturday, October 20 at 7:30pm at the VSU Multi-Purpose Center.
Step show will feature the following teams, Alpha Phi Alpha Fraternity Inc – Beta Gamma Chapter, Kappa Alpha Psi Fraternity Inc – Alpha Phi Chapter, Phi Beta Sigma Fraternity Inc – Tri Alpha Chapter, Iota Phi Theta Fraternity Inc – Eta Chapter, Alpha Kappa Alpha Sorority Inc – Alpha Epsilon Chapter, Delta Sigma Theta Sorority Inc – Alpha Eta Chapter, Zeta Phi Beta Sorority Inc – Phi Chapter, and Sigma Gamma Rho Sorority Inc – Alpha Zeta Chapter.
The performances will be judged by the National Stepping Association.
Ticket Prices:
$43 - VIP (includes VIP Seating, No Wait Entrance through Priviate VIP Entrance, and Commemorative 2018 VSU Homecoming T-Shirt
$23- General Public
$18 - VSU Faculty and Staff (with ID at Tri-City Design Box Office only)
$10 - Students (with ID at Tri-City Design Box Office only)
$33 - Day of Show (no discounts on day of show)
Reserve a suite today by emailing Patricia Porter at Patricia_Porter@comcastspectacor.com.